Birthday Songs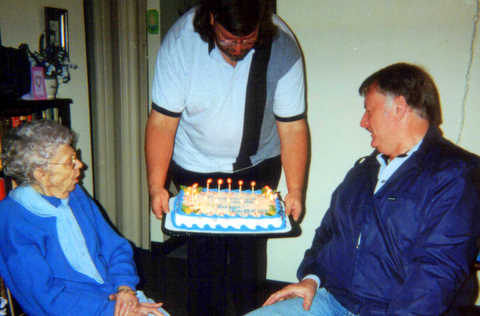 If you knew Dr. Moore, there was a good chance he would try to learn your birthday so that he could send you a greeting on your special day. But they weren't any ordinary birthday greetings.
Over the years, Dr. Moore took the traditional song and rearranged them in different styles. What would it sound like if it was written like a Renaissance Cantus? What if Gilbert & Sullivan had written it? Or Glenn Miller as a march? Dr. Moore used his gift as an arranger to create multiple versions in various styles.
If you were a friend of Dr. Moore, he would try to send you one every year, specifically one you'd understand. A few years ago, he tried to get some of these published, but the timing wasn't right. Now, many of his birthday arrangements have been collected in one place! There are over 35 versions available.
Each version is listed below, and by clicking on the link below will take you to the page for that version. Many of them can be listened to, some can be downloaded as an .mp3 or a Finale file, and most of them have the print version available as a .pdf file. (See the note at the bottom of this page for info on the file types.) The files have been unchanged, so if you see a name listed, it may be the last person he sent that version to.
Webmaster's note: Some of these may be inside jokes. Others might be only meant to be seen with no reason to listen to them. Unfortunately, I don't know Music Theory and I could be oblivious to the joke. If there is something obvious that I missed, or posted needlessly, please forgive me.
A note on the audio. With one exception, these have not been performed. Instead, the audio has been recorded from the original Finale computer files, and it is as if the computer is playing it on a piano. That somewhat ruins the joke if it was a Fugue to be played on an organ, or to be sung a capella.
* = Recommended place to start
Clausula (ca. 1200, a la School of Notre Dame)
* Do-Wah (1950's Pop Music)
John Downland (Lachrimae Pavan)
* Fugue
Glenn Miller
Madrigal (for Mixed Voices)
March (Piano - Four Hands)
Monteverdi (Chorale Prelude)
Pick-a-Little (From The Music Man)
A note on the different file types: You can right-click on each link for these files and save them to your computer
An MP3 file is an audio file that can be played on your computer, used to make your own audio CD, or put on your Ipod or MP3 player.
A MIDI or MID file is an audio file that can be played on your computer, and is a much smaller file size and can be downloaded quicker.
A FINALE or MUS file is used by the Finale musical composition software. This is the program Dr. Moore used to write these songs and most other music he worked with. If you have a copy of Finale, it might be the best way to enjoy these songs, as you can see where you are in the sheet music while the program plays it for you. If you'd like to know more about Finale, there is a free version of the program that allows you to play back these files called the Finale Reader.
A PDF is a document that contains all of the pages of sheet music of the song. To open a PDF, you need the free Adobe Reader.
A TIF or TIFF file is an image file, with a small file size and ideal for printing a page. They will also appear larger on your computer screen than the images on each songs page. Each page will have it's own file, so you would need to download all pages.