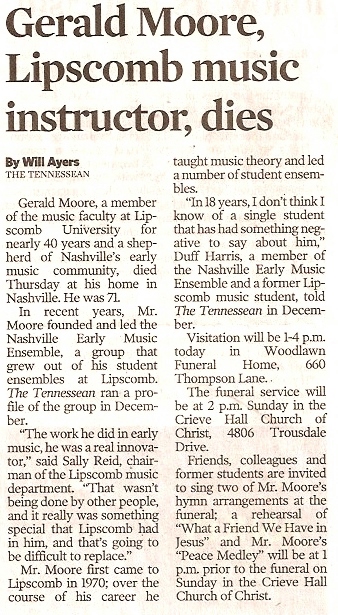 Gerald Moore, a member of the music faculty at Lipscomb University for nearly 40 years and a shepherd of Nashville's early music community, died Thursday at his home in Nashville. He was 71.

In recent years, Moore founded and led the Nashville Early Music Ensemble, a group that grew out of his student ensembles at Lipscomb. The Tennessean ran a profile of the group in December.

"The work he did in early music, he was a real innovator," said Sally Reid, chair of the Lipscomb music department. "That wasn't being done by other people, and it really was something special that Lipscomb had in him, and that's going to be difficult to replace."

Moore first came to Lipscomb in 1970; over the course of his career he taught music theory and led a number of student ensembles.

"In 18 years, I don't think I know of a single student that has had something negative to say about him," Duff Harris, a member of the Nashville Early Music Ensemble and a former Lipscomb music student, told The Tennessean in December.

Visitation will be 1-4 p.m. Saturday, Feb. 13 at the Woodlawn Funeral Home, 660 Thompson Lane.

The funeral service will be at 2 p.m. Sunday, Feb. 14 in the Crieve Hall Church of Christ, 4806 Trousdale Drive.

Friends, colleagues and former students are invited to sing two of Moore's hymn arrangements at the funeral; a rehearsal of "What a Friend We Have in Jesus" and Moore's "Peace Medley" will be at 1 p.m. prior to the funeral on Sunday at the Crieve Hall Church of Christ.