Johnny Cash Sings with the BC Goodpasture Christian School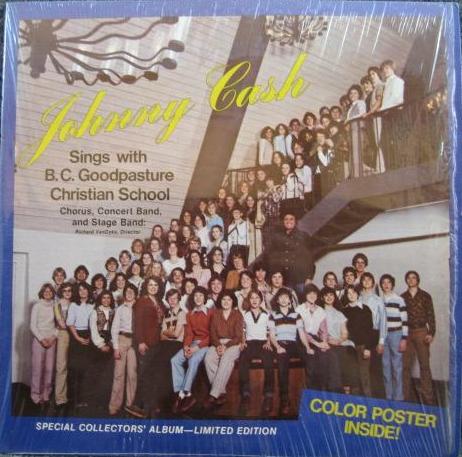 In 1979, Johnny Cash's son John Carter Cash was enrolled at Goodpasture Christian School in Nashville. Cash agreed to do a tribute record album as a fundraiser for the school. He rerecorded several of his older gospel tunes and then Goodpasture students went to the studio to provide backing instruments and vocals.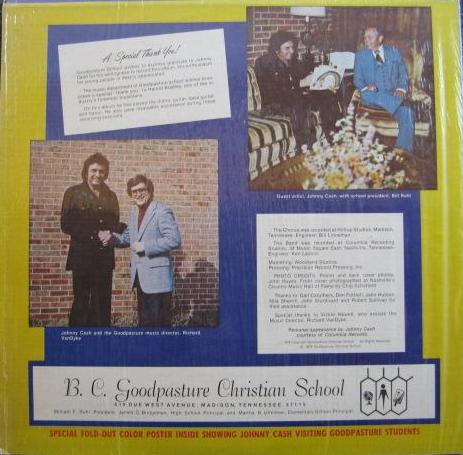 At the time, Goodpasture's musical director was a friend and colleague of Dr. Moore, Richard VanDyke, who is pictured with Cash on the back cover on the bottom left. This happened during the years that Dr. Moore moved back to Texas for a short time between his stints at Lipscomb.
Richard VanDyke hired Dr. Moore to come back to Nashville for a weekend to help work on the album. Dr. Moore made arrangements of all but one of the 10 tracks on the record. He also went to the studio on Music Row while the students performed their part. (The Studio engineers had to work their magic to get a group of students vocally aligned with a soloist who recorded his part days earlier.)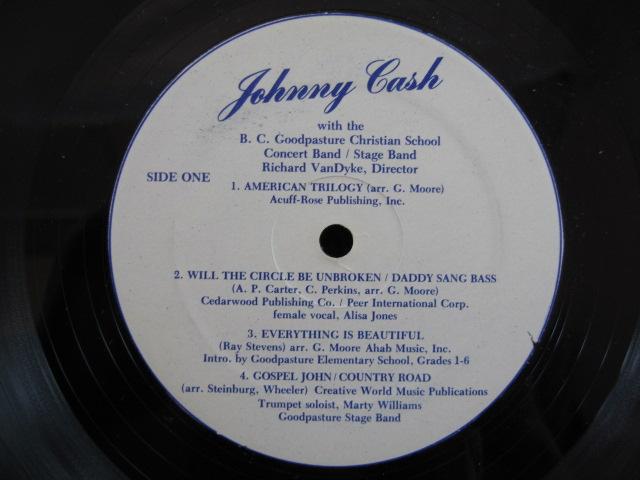 Side one of the LP was recorded with the Goodpasture Concert and Stage Bands providing the back. Side two was with school chorus. Song #4 is the only track to not credit Dr. Moore. Also, the only place he is mentioned in on the actual album.
The album cover opened up with all of the names of the Goodpasture students who were part of the bands and chorus. The Album also came with a pull-out poster of Cash in various poses with different members of the student body.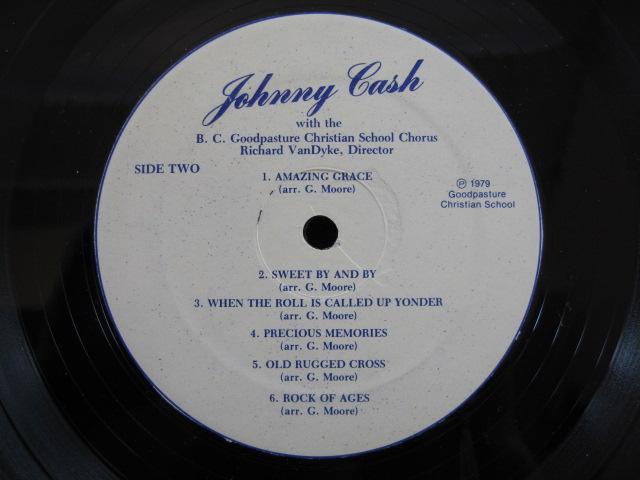 Track Listing:
Side One with the Goodpasture Concert Band and Stage Band
1, American Trilogy (A medley of "Dixie", "All My Trials" and "The Battle Hymn of the Republic." The song was made most famous by Elvis.
2) Will The Circle Be Unbroken / Daddy Sang Bass (The first part is the famous Spiritual and the second might be cash's most famous gospel song, originally written by Carl Perkins. Student Alisa Jones sang the "Mama sang tenor" part.)
3) Everything is Beautiful (This is the famous Ray Stevens song. Goodpasture Elementary Students from grades 1-6 did the opening "Jesus Loves the Little Children" part.)
4) Gospel John / Country Road (The only song to not use Dr. Moore's arrangement. Student Marty Williams was a trumpet Soloist.
Side Two with the Goodpasture Chorus. All of these are well known church hymns
3) When the Roll is Called Up Yonder
6) Rock of Ages
Today, this album is somewhat difficult to get a hold of, mostly because of the numerous Johnny Cash collectors who by up every copy once one comes for sale. At one time, someone somewhere released it as a bootleg cd (Splitting Will the Circle Be Unbroken and Daddy Sang Bass as separate tracks), but even the CD is rather rare to find.